Yes!!!!
Look, I love Magaya but I'm also aware it lacks reporting, at least some "visual" reporting that allows you to make better decisions or understand your business better.
The good news is:
If you use the system properly.
If you fill out all the fields (at least the important ones).
If you create your agents, clients, vendors, ports, and necessary data.
…then you have tons of valuable information, you just need to get it out and put it to good use.
OK, Andrés, that sounds good but, how?
Well, I got you covered.
Caveat: If you're not a Magaya user, your system will most likely allow you to export CSV or Excel files with a similar structure, so it will still be good to use.
Follow these steps and start using your dashboard
1. Open the folder below
Download the files to your computer.
Do not open them as Google docs files.
Remember, the main file "Innobo – FREE Shipment Dashboard" is a Macro-enabled excel workbook, so you might need to enable macros as soon as you open it depending on your system configuration.
Get a 30-minutes FREE consultation.
In about 5 minutes on the phone, with a standard Magaya functionality, we were able to create a report for a client who spent about 8 hours a month filling out a spreadsheet, immediately saving him over $ 3,000 / year on that call alone.
From an accounting perspective, we can help you put a few pieces in place so you and your team can be more efficient.
2. Watch the video below
For instructions on how to:
Prepare the data in Magaya.

Choose the required columns.
Save the view.
Export the file.

Run the Dashboard

Filter by client and carrier.
Filter by mode of transport, layout, and direction.
Filter by origin or destination.
Everything we do as an accounting consulting firm is seeking efficiency for your business.
Every single area in your company has a direct impact on your books and that's why we help you align them all.
3. Enjoy
Remember you can use your FREE 30-minutes consultation to get the most out of it.
If you need more than that, make sure you visit our support page and choose Consulting in the Service field.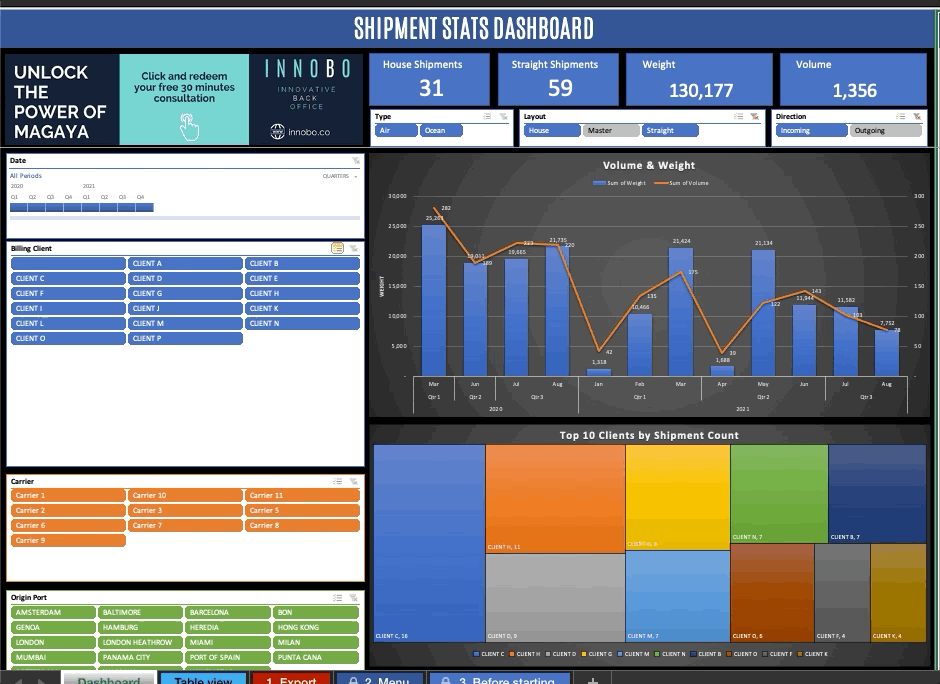 Visit our Accounting Services for Logistics Companies
If this content is useful, follow us on our social networks.
Tell us in the comment box if this article has helped you or what content you would like to see on our blog.