Blog
Navigating success together: insights, solutions, and stories from Innobo's Service Hub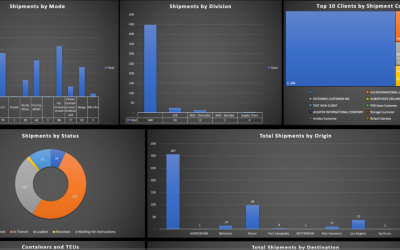 This is the third iteration of our FREE Shipment Dashboard.
If you are tired of sifting through endless data to gain valuable insights from your shipment records in Magaya, we got your back! And the best part? It's 100% FREE!
Our Shipment Dashboard is an Excel macro file designed to revolutionize the way you analyze and filter your shipment data. With just a few clicks, you can unlock a world of powerful insights, optimize your logistics processes, and make data-driven decisions effortlessly.
Our Shipment Dashboard offers a range of features and benefits:
Interactive Filtering: Easily navigate through your shipment data using intuitive filters. Analyze shipments by date, origin, destination, carrier, and client, sales reps, all at your fingertips.
Easy to use: Just build a view in Magaya (once), download the data, copy/paste, a couple of clicks and you're done.
Visual Analytics: Gain a holistic view of your shipment trends through interactive charts and graphs. Identify patterns, spot anomalies, and drive operational efficiencies.
Custom Profit field: using your liquidated income, we automatically calculate a prorated-by-revenue profit on each of your houses, that way you can actually measure your profit by client and sales rep!
read more