In our experience with Magaya software in dozens of companies in almost every country in the Americas, we've noticed most people DO NOT take advantage of the following Magaya features:
1. The Rates module
The rates module consolidates all your sale and purchase rates allowing you to configure the system to add those rates on shipments and other transactions (pickup orders, warehouse receipts, cargo releases, etc.)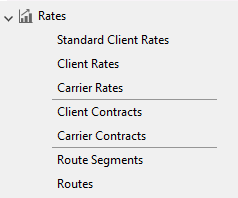 These are some of the useful ways to take advantage of them, they work best combined with other features such as automatic charge creation and live track:
Setting your airline or steamship line rates so when you create a shipment and select those carriers, the purchase charges populate with the right amounts.
Bill your customers with a previously negotiated rate without having to remember or look for old quotes.
Offer your rates online by allowing anyone who registers to your database through your Magaya Live Track portal to see your general sale rates. Remember you can always manage specific rates to specific customers.
You can go as deep as setting up rates for multimodal routes adding multiples segments combining air, ground, ocean and more.
2. Automatic charge creation
Automating the creation of the charges is useful for different things. 
To set it up open the charge from the Items and Services list, edit the charge and go to the Automatic creation tab.
 Then you can define what kind of transactions, direction or mode of transportation you want to enable it on. Some of the ways to take advantage of this are:
Once the client rates are created, you can be sure they'll always be billed correctly.
Every time you create a shipment or any other transaction that you have enabled this feature on, this charge will be automatically updated and calculated with the right weight, volume, pieces count or any variable that determines the price.
See more on the Magaya Knowledge Base page.
3. Pre-liquidation from House Shipments
In real life, shipments are probably not complete by the moment you bill your customers, so why liquidating the whole shipment when you can still bill your clients and wait for your carriers or vendors bills so that you can complete the operations and liquidate/close it.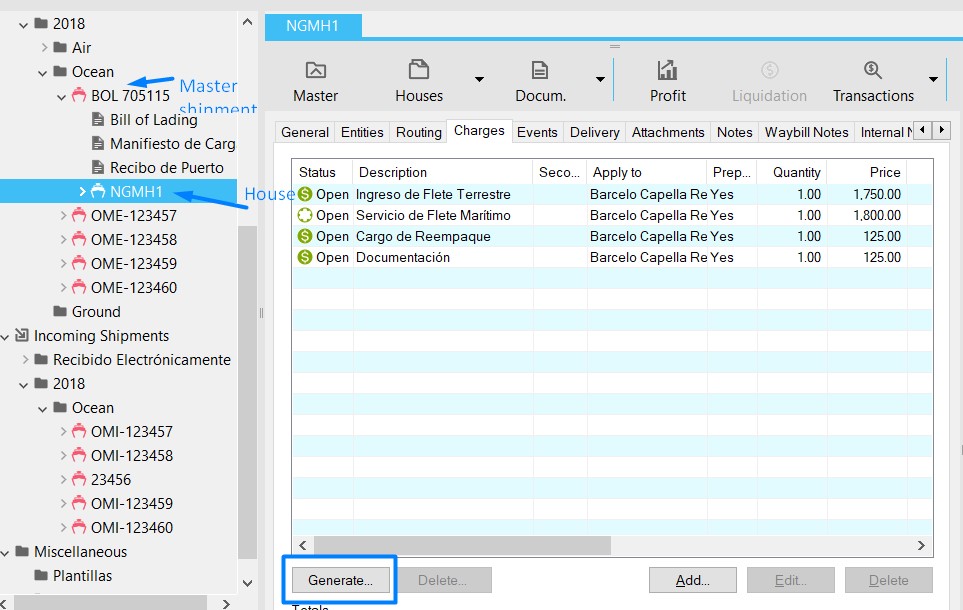 Then you click on the generate button all the open charges will convert to invoices (or bills if any cost is registered at the house level, like particular storage or drayage costs).
If you have automatic charge creation enabled along with the customer's rate both setup, then you already discovered automated accounting by Magaya!
You can send the invoice to your customer and wait for all the cost bills to liquidate the full shipment, calculate agent's profit share or salespersons commissions.
4. The Transaction Tracking feature
This feature will allow you to send out emails automatically from any transaction you create.
For instance, picture Magaya Software sending out an email, to a certain client, every time they receive goods at your warehouse and you create a Warehouse Receipt for them.
Have Magaya send invoices, pickup orders or simply updates from any kind of operations. You can even trigger the email messages according to a specific event, for instance, your customer doesn't want to receive an email every time cargo is received but every time it's loaded onto a shipment or is set in transit.
Help us improve
It's always exciting to get to know experienced people in the industry.
We're not trying to sell or offer anything, but we really appreciate an expert's input in order to create an offer that companies really want.
So would you be open to a quick conversation in the coming days in exchange for free advising?
If you are, please let us know what date and time work best for you next.
5. Magaya LiveTrack
Last but not least, this feature is in my personal opinion one of the best client-oriented tools. It provides a full dashboard full of information and functions so that customers can see everything you handle for them: rates, quotes, bookings, warehouse receipts, pickup orders, shipments, cargo releases, invoices, etc. They can even pay your invoices online! Or dispute them…
They can upload attachments even after office hours, they can order shipments or deliveries online, saving you customer service once you have educated them on the use of this tool.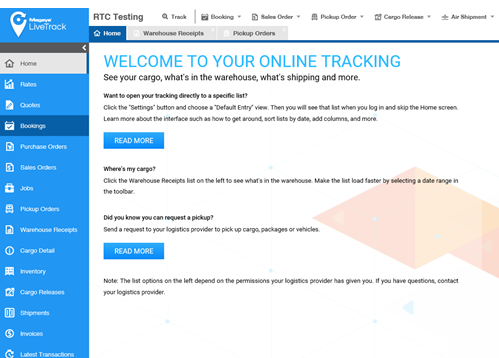 Follow us if you find this content useful.